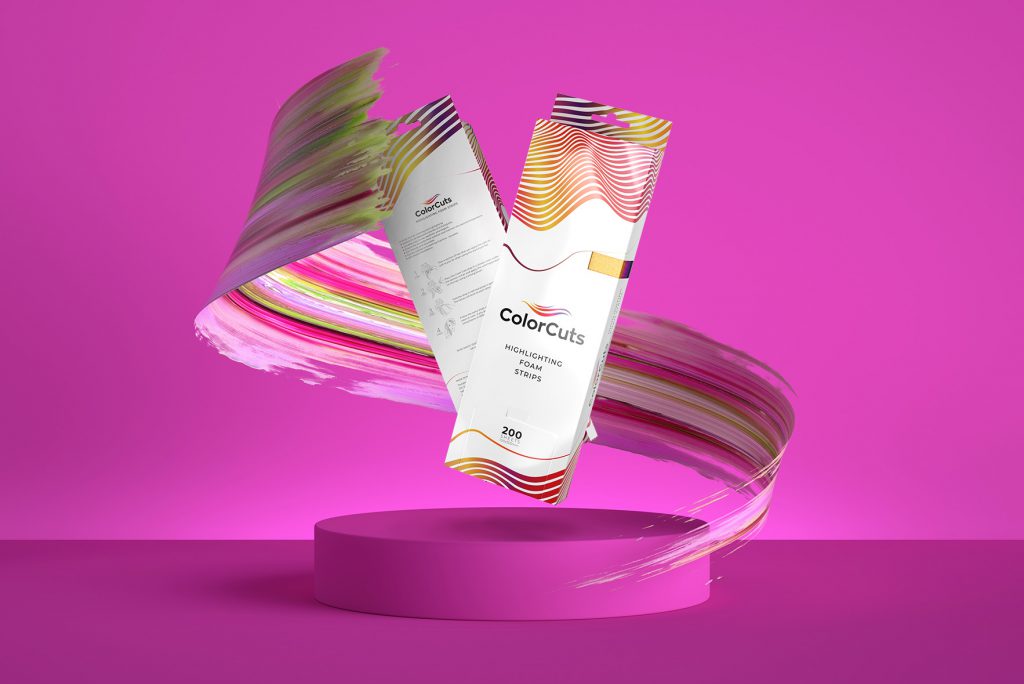 Highligting Foam Strips – the Hair Colouring Hit That Conquered Hair Salons
Looking for professional accessories for your salon? You've come to the right place! The Color Cuts brand has just launched innovative strips for multi-tonal hair colouring. These economical, light and reliable hair strips made from modern and biodegradable polystyrene foam outshine the impractical and slipping aluminium foil. Meet the sensation, conquering hair salons.
What are Highlighting Foam Strips?
These unique colouring strips are a breakthrough in hair colouring and highlighting! Forget rustling and difficult to apply aluminium foil that tears and creases, making colouring difficult. The Color Cuts strips are a Maltese product of the highest quality – strong, flexible, easy to apply to the hair, don't slip off the hair and hold perfectly at the roots. They can be applied in a matter of minutes and are easy to handle even for a novice hairdresser who is just getting to grips with the art of creating sombre, ombre, highlights or balayage.
Why do hairdressers value Highligting Foam Strips?
FIRST: the strips are easy to apply, practical and comfortable.
The box contains 200 pre-cut strips measuring 105 x 310mm. They are suitably long for colouring even long hair easy! They come in a handy box that facilitates makes the application quick and easy – no need to cut or even fold the edges during colouring! Many hairdressers consider them to be the fastest and easiest colouring strips on the market! In addition, they are very flexible, so they don't crease, but you can easily fold them in half, 'locking' the dyed section inside the strip. There's also no hassle applying the strip to the roots – they hold perfectly and don't slip out of the hair.
SECOND: Highlighting Foam Strips are eco-friendly.
Color Cuts foam strips are biodegradable and recyclable! No more littering the environment with aluminium foil or other toxic materials. Go green and choose hair strips tailored to our times for your salon!
THIRD: The strips are economical.
What does it mean? Saving money for your salon, of course. These strips can be washed and reused! This is pure economy, as the foam material they are made of lasts for up to 3-4 uses. So instead of 200 strips in a pack, you actually get 800 strips for hair colouring! And since Highlighting Foam Strips cut colouring time in half, you can take on more clients in a day – that's more earnings and more satisfied customers.
Wyświetl ten post na Instagramie
FOURTH: they are customer-friendly
Color Cuts produced hair strips that don't damage the hair like regular foil strips. They help maintain optimal heat, don't pull on the hair when removed and are light so they don't strain the hair roots. Your customers will appreciate their beautiful colours, aesthetics, lightness, and more importantly shorter colouring time.
FIFTH: Color Cuts help hairdressers during colouring.
Did you know that, in addition to their beautiful design, the colours of the Highlighting Foam Strips streamline hairdressers' work? How many times have you had a problem when while applying multiple colours you weren't sure which shade was inside the foil strip? Now you can mark them by applying a different colour strip to each shade. This ensures full control of the colouring process. Learn more about the product: www.colorcuts.mt.
---