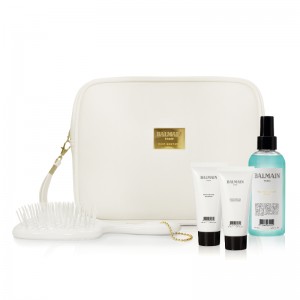 Most women like to use cosmetics from one and the same brand. Similar ingredients and action are the greatest qualities of such products. One of the cosmetic brands like this is Balmain. The conditioner, shampoo, sun protection spray and a hair brush will help you with hair styling.
Balmain collection holds cosmetics for styling, but also a hair brush that will help you take better care of your hair. The entire thing was placed in a white cosmetic bag. The set holds sun protection spray, moisturizing shampoo and moisturizing conditioner. These products are recommended for all hair types, no matter the coil, porosity, colour and texture.
How does Balmain cosmetic work? The spray is expected to protect against solar radiation, UVA and UVB. The strands and scalp are provided with nourishment and strengthening, it protects against sea water, chlorine and the sun. What is more, it protects natural colour; prevents colour fading. It makes hair soft, glossy and inhibits hair loss. One bottle equipped with pump contains 200 ml of liquid.
This amount will certainly last for the entire holidays.
Moisturizing shampoo ensures hair with elasticity, softness and smoother. It makes brushing nice and easy. Additionally, this product delivers strands and scalp with many nourishing ingredients, regenerates and makes hair glossy. Argan oil contained in the shampoo strengthens and inhibits ageing of the scalp. Similar action has moisturizing conditioner. Its properties facilitate combing and prevent tangling. The capacity of both cosmetics is 50 ml.
To the set of stylisation cosmetics by Balmain was added a hair brush. Thanks to elastic bristle combing become easier and faster and you will not have to worry about tangles. Thanks to the waterproof technology used in the brush, you can use it both on dry and wet hair.