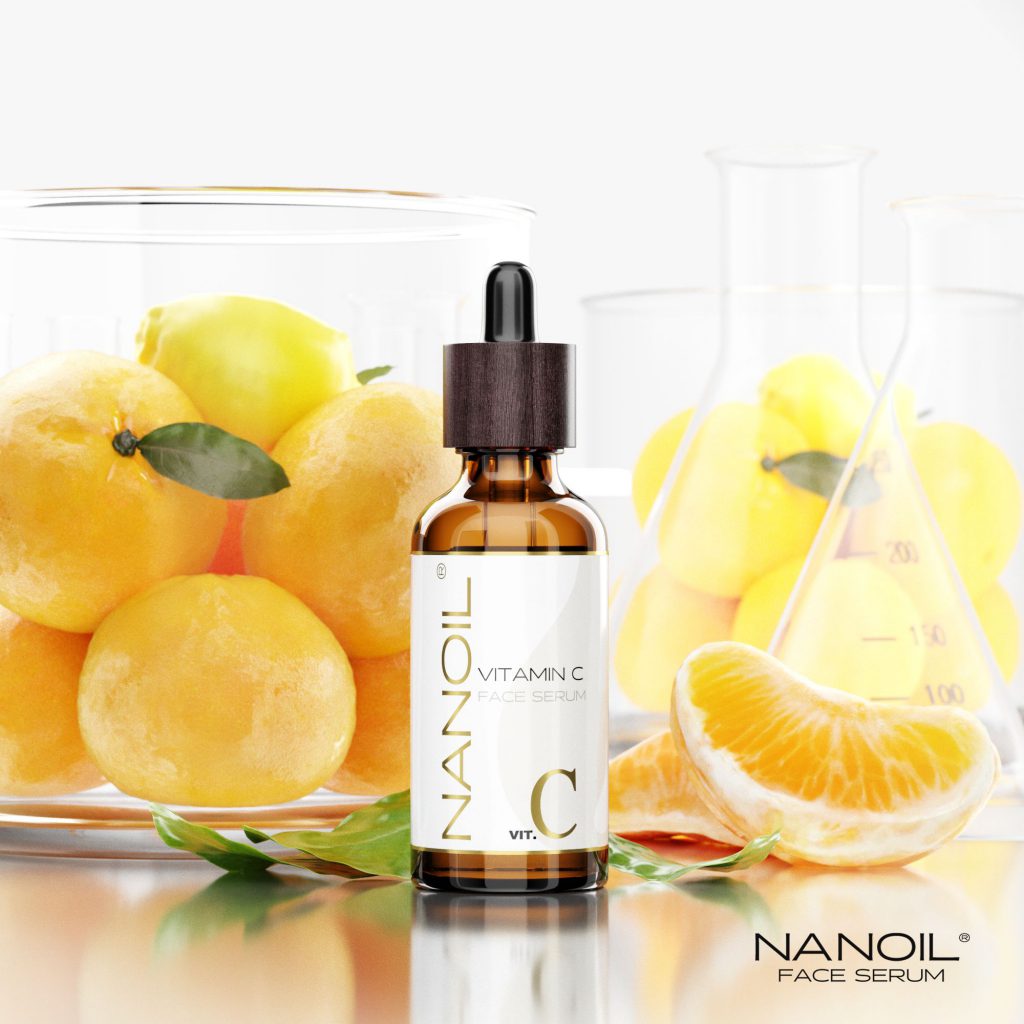 Even though we come from all corners of the world, we lead different lives, we have various passions and needs, there is one thing that connects us all – the pursuit of youth. We all want to be forever young, have healthy-looking skin with no signs of passing time.
Luckily, nowadays you can achieve this goal easily. Now you know that a face serum guaranteeing you flawless and youthful-looking skin exists and, on the top of that, it's easy-available. You're just one click away from it. This miraculous skin care product we're talking about is Nanoil Vitamin C Face Serum – a youth cocktail and a recipe for stunning complexion. If you are a person who values proven cosmetics of high quality – here is the perfect face serum for you.
Potent vitamin C
If you think that the subject of vitamin C in skin care is pretty well-worn, today you'll look at it form a different angle. Until now vitamin C used in the beauty industry was rather "moody" because before it managed to reach and start working in the deepest skin layers, it had oxidized and broke down. This is why its effects weren't significant. However, nowadays this matter is different. Take Nanoil face serum for example where the best and innovative form of vitamin C – 3-0-ethyl ascorbic acid – was implemented. When the optimal concentration of vitamin C is combined with high quality components, you get a recipe for the best face serum with vitamin C that you can imagine.
View this post on Instagram
How does Nanoil face serum with vitamin C work?
The skin improving effect of Nanoil face serum is owed to the finest form of vitamin C. This "tamed" ethyl ascorbic acid is able to penetrate all skin layers to give 100% of itself and provides you with the highest level skin treatment. Nanoil Vitamin C Face Serum works at various levels: it helps solve many skin problems and is suitable for skin at all ages. This means that no matter if your skin is young and acne-prone, couperose, sensitive, combination or oily, tired, dull, mature, aging or irritation-prone – you can be sure that this face serum will suit them all. You should think of this skin care product as of an energy boost for skin. What are the benefits of treating face with Nanoil Vitamin C Face Serum?
Nanoil face serum with vitamin C: 9 benefits to enjoy
Skin brightening – visible form first use.
Improved skin tone – noticeable after a few applications.
Discoloration reduction – achieved after a month.
Wrinkle reduction and aging slowdown – within a few weeks.
Anti-age protection – form the first moment applied.
Strong anti-oxidative effect – noticeable after first use.
Sun protection and reduction of age spots – within a month.
Reinforcement of blood vessels – depending on their initial state.
Cured acne and erased skin imperfections – within 2-3 weeks.

How to apply Nanoil face serum with vitamin C?
Use every day in the morning and evening, or just in morning prior to a day face cream. Although it doesn't matter if you use this product once or twice a day, you will achieve the desired results if you keep applying Nanoil face serum on a daily basis. Another good news is that Nanoil Vitamin C Face Serum can be used all year, which is beneficial mainly during the summer – vitamin C boosts UV filters that face creams contain. This means that this face serum protects skin against UVA and UVB radiation. Last but not least, this skin care product smooths skin out and lightens up discolorations and pigmentation so it eases application of makeup products significantly.
Comments on Nanoil Vitamin C Face Serum
The positive reviews that Nanoil face serum with vitamin C receives are owed to the positive effects it has on skin. Within a few moments since being applied, skin becomes well-rested and full of energy. Being able to stimulate collagen synthesis, Nanoil face serum reduces wrinkles and improves skin tone. Thanks to this, Nanoil Vitamin C Face Serum wins many favorable reviews. This is a perfect and cost-effective skin care product, therefore if you're looking for the best face serum with vitamin C, reach for Nanoil Vitamin C Face Serum.