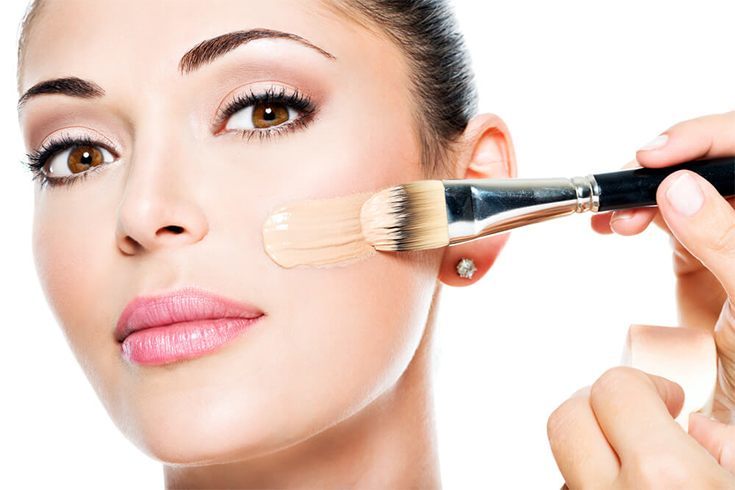 Many women have a problem with the application of thick foundation. Long-lasting products are visible on the skin, leave lines and streaks, create so called mask effect. Check how the foundation should be applied to make the make-up perfect.
Remember about moisturizing skin of the face. Lightweight cosmetics will work perfectly well. They will be absorbed quickly and provide our complexion with proper care. If you feel that your skin is still dry and dull, use a lightening mask. The foundation will look much better and the final effect of make up will be fully satisfying. Dry skin, wrinkles and discolouration won't be visible. Apart from the moisturizer, apply a make up base. The cosmetic will make the foundation more durable and all imperfections will be covered.
If your skin is extremely dry, you can try a simple trick used by make up artists. What is it about? Mix the foundation with the moisturizer or make up base. You might also combine coverage foundation with moisturizing foundation. Remember that the shade of products must resemble the colouration of your complexion. But how should we apply full coverage foundation which has thick consistency? Beautyblender – an egg-shaped sponge – will be great. You will be able to cover the skin on the ear lobes, at the flares of the nostril and in the corners of the lips. Application with a brush will never give you the effect of smooth skin and even colour. Remember to rub the cosmetic below the lower jaw and on the neck skin.
Do you know that thermal water, hydrolate or moisturizing spray will give your make-up lightness? You only have to spray your face with the cosmetic and wait a moment. Then, you can apply the foundation and powder. In order to set the whole make-up, spray the face again. Thanks to the trick you will get a natural and beautiful look. The application of one or two very thin layers of the foundation will bring similar effect. If you struggle with imperfections, use a spot corrector and then powder the face.