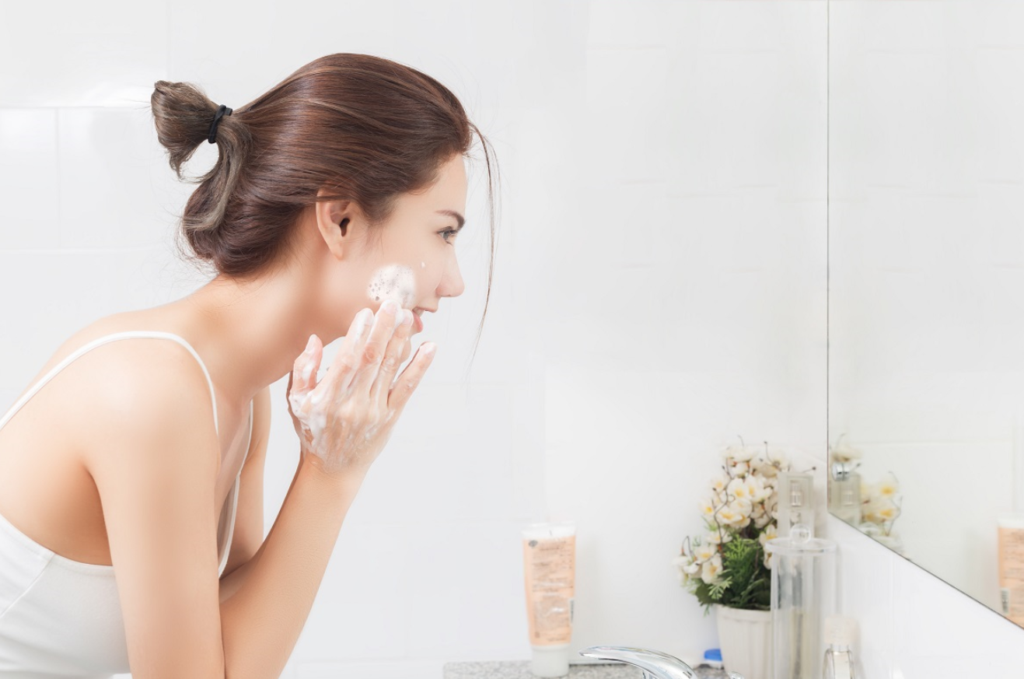 Daily face cleansing is an essential beauty treatment that assures healthy and pretty look. Owing to this procedure, you can get rid of dead epidermal cells and comedones. Also, you can reduce sebum effectively. In general, freeing your face from impurities results in boosted absorption of nourishing substances that you try to supply the skin with. Find out what face cleansing methods are on top now. Make your skin healthy and radiant again!
Why 'regular soap' isn't enough? It appeared that what once served our grandmas, it doesn't necessarily suit the needs of modern times. Simply, atmospheric conditions change and they have an immense impact on the state of our skin. Read on to learn the benefits of modern cosmetology and find yourself the best face cleansing product.
1. Face cleansing: Sonic Brush
This has been a real hit of the recent months. Sonic brush comes in various sizes and shapes, yet its key task always remains unchanged – it's supposed to help you get rid of all possible impurities, even skin tone and leave the face smooth, radiant and firm. In general, sonic brush is an electronic device that facilitates mechanical skin exfoliation processes and gets the circulation going in skin. Also, this tool encourages the skin to regenerate itself faster, erase fine lines, boost lymph flow and what is strictly connected with this – collagen and elastin production improves.
2. Face cleansing: Konjac Face Sponge
Konjac is a plant native to Asia. The fun fact is that it blooms once a few years and its blossoms live only for 3 days. Face sponges are made of this plant roots. It appears that Konjac sponge contains a natural washing agent that cleanses skin. Its acidic, and therefore it assures balancing skin's pH and replenishes skin with water. What's worth realizing, such sponge can be used many times and can be used as a mild exfoliator. Moreover, Konjac Sponge helps you erase blackheads and unclog skin pores. Additionally, it stimulates blood flow in skin and makes it soft to the touch.
Nowadays, you can come across Konjac Sponges enriched with green tea extract, cosmetic clays or activated charcoal – just to enhance the benefits within skincare (mainly the cleansing effect). Choose Konjac Sponge that matches your skin needs – and its type – and remember to keep it clean and wash it often enough to prevent bacteria from multiplying.
3. Face cleansing: African Black Soap
This isn't just regular soap! This is a product that is able to clean face deeply and perfectly. The key ingredients here are activated charcoal, natural oils and plant extracts. The unique blend of ingredients make African Black Soap help your skin become prettier day by day. Face is gradually getting more nourished and resistant to the harmful factors. Moreover, if African Black Soap is used regularly, you will see the face skin being clean and regenerated. What's important to realize, activated charcoal is capable of freeing skin form toxins, is anti-inflammatory, encourages skin self-renewing processes and – what's really crucial – it improves skin firmness and leaves it noticeably smoother.
4. Face cleansing: Natural Oil
OCM, which is Oil Cleansing Method, is a way of having perfectly-looking skin almost off-hand. Natural oils have taken over the world of beauty and are repeatedly recognized as the perfect agents to enhance one's appearance. For example, it turns out that apart from being an effective alternative to face serums and hair care products (e.g. when used in hair oil treatment), natural oils are also able to clean face skin. Therefore, use them to remove makeup. Your skin will become as clean and nourished as never before.
Among the makeup removing oils it's castor oil that constitutes the base ingredient in OCM blend. Additionally, you can turn to jojoba oil, argan oil, macadamia oil, almond oil, camellias oil or pot marigold oil. Natural oils are rich in essential fatty acids, precious vitamins, flavonoids and phytosterols that rejuvenate and regenerate skin.