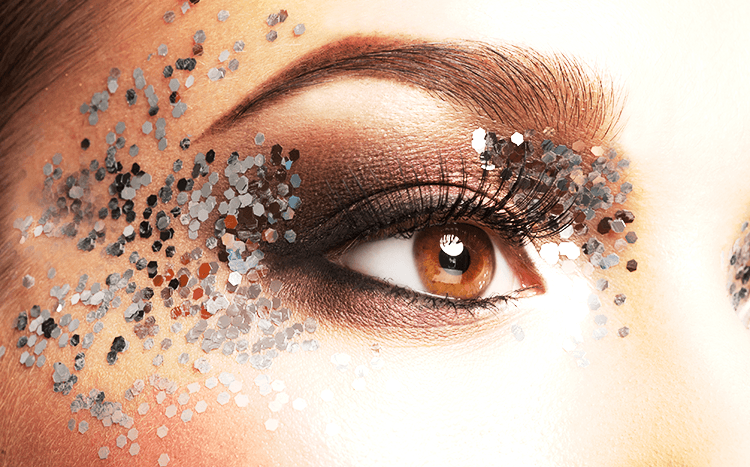 Regardless of the type of the party you are going to New Year's Eve make-up is all about glitter and vibrant colours. Keep reading to find out what the newest trends in beauty fashion are.
The smokey eye was very fashionable for many years and this year it is time to accent different part of the face-lips. Strong, vibrant, and even glittery lips in dark red or in purple are bound to draw everybody's' attention. How to do the full make up step by step?
The durability of your look is a must. You should take care of it right from the very start. Before putting anything on your face, use the gentle scrub to exfoliate dead cells and any impurities. Only then, you can moisturize and tone the skin. Make sure that you always use a light moisturizer and wait until it is fully absorbed, otherwise, your powder can easily flake off. Then, use the foundation with long-lasting power. Cover not any your face, but also the neck and décolleté so that you do not end up with the mask effect. It is very important to cover all skin imperfections particularly dark under eye circles. The night is going to be long and you do not want to look tired. You can also use the light tone concealer to shape your face.
To get the Kim Kardashian's sculptured look, apply the light concealer under your eyes and drag the line down parallel to your nose. You can also brighten your face by putting a concealer in the T-zone. Remember to blend well all the harsh lines. Draw a thick line under your cheekbones with a matte bronzer and on your forehead- on the hairline. Even if you are going to accent your lips that evening, your eyes cannot stay neglected. Use the liquid eyeliner to give your eyes desired shape. Black mascara or a pair of falsies will complement the whole look.
Depending on the dress you wearing, match the lipstick in the same tone. If you use the lip liner first, your lipstick will not feather and it will last much longer. Finish your make-up by spraying your face with special fixer so that you look great until late morning.