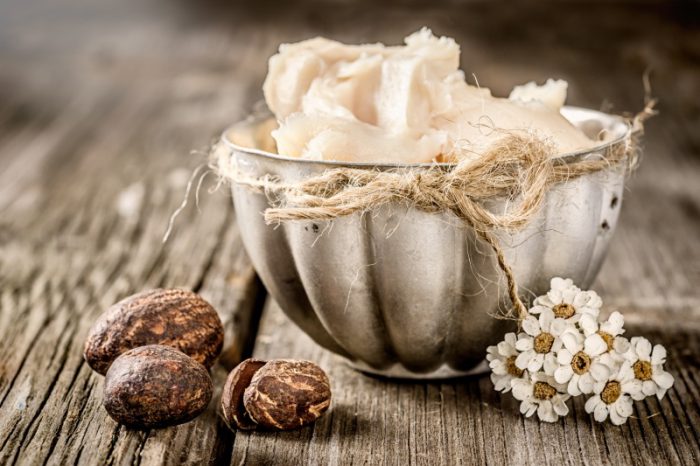 Karité means life in French – it makes sense because using Shea butter regularly, you make sure your skin cells work the right way. The substance is able to give a new life to flat, easily weighed-down hair which doesn't want to grow. It nourishes bulbs, smoothes fine lines and facilitates processes occurring in the cells. At the same time, it is a versatile and universal cosmetic. The key ingredient in DIY beauty products. What are shea butter benefits for hair and skin? How to use it in a daily beauty care routine?
Shea Butter INCI: Butyrospermum Parkii Butter
Karité is an aromatic fat, extracted from the seeds of shea trees grown over the vast areas of African savanna – from Ethiopia to Senegal. The fruit of the shea tree is the size of a large peach. The round seeds are three-centimeter long and have quite hard shells. The precious, buttery oil is extracted from the inside.
Shea butter – composition
There are two derivatives of Shea butter. The refined one is commonly used as an edible fat for producing margarine. Unrefined Shea butter, on the other hand, is the most valuable considering beauty purposes. Its composition is as follows:
saturated fatty acids, e.g. stearic (38%)
unsaturated fatty acids

, mostly oleic acid (50%)

phytosterols

– they enhance the production of collagen and keep it on a high cellular level, preventing the dissolution of elastin at the same time

flavonoids

– have antioxidant power, make sure that hair and skin are moisturised, reinforcing fragile blood vessels and disulfide bonds inside the hair

vitamin E

– a strong antioxidant and an efficient transportation of nutrients into the cell

vitamin A

– it is responsible for the hair growth, protects hair and skin from toxin

allantoin

– it delivers an excellent softness and smoothness
Shea butter – properties
Shea butter is multitasking, being equally effective for hair and skin. Knowing its beauty benefits and action pays off.
Shea butter for hair and skin – use & effects
moisturises, locks water in cells
works as a make-up remover
it is an amazing cream for coarse and extremely dry skin on knees and elbows
use it instead of a lip balm (do it yourself mixing Shea butter with beeswax)
use it to make a body lotion and DIY perfume
a powerful rejuvenating serum (works best when you apply it as a base for face cream)
nourishes the nail plate, moisturises and keeps nails from splitting
it's suitable for sensitive and fragile skin, helps treat lots of skin problems and is ideal for massage
smoothes wrinkles, works as the best eye cream
Shea butter hair benefits & application
Shea butter is a hair expert. The application is effortless. The butter is quickly-absorbed, cares for hair throughout its length, bulbs and scalp. What are the effects of hair oil treatment with shea butter?
maximum hair smoothness and shine
a hygroscopic protective coat on hair surface, locking moisture in
fast absorption without weighing down
stronger bulbs, blocked hair thinning and faster hair growth
increased elasticity and easier styling
a perfect match with other natural oils
What type of hair is Shea butter suitable for?
Thanks to the content of fatty acids (oleic and stearic), which come in similar proportions, shea butter is cut out for hair having low or medium porosity. Therefore, it is going to care for thick and heavy hair as well as the so-called normal hair – not too damaged yet weak, needing hydration and protection, sensitive to weather changes.
Shea butter – reviews
Shea butter is among the top natural cosmetic butters. To use it, you must heat it up first so the butter changes into a fluid. The butter gets raving reviews – it is fit for nearly every hair type and enhances the elasticity of mature skin. It's even a good beard oil – men go for shea butter as often as women do and really like the effects.
Shea butter – price
The price provokes its popularity, too. Shea butter is widely-available and on a budget.