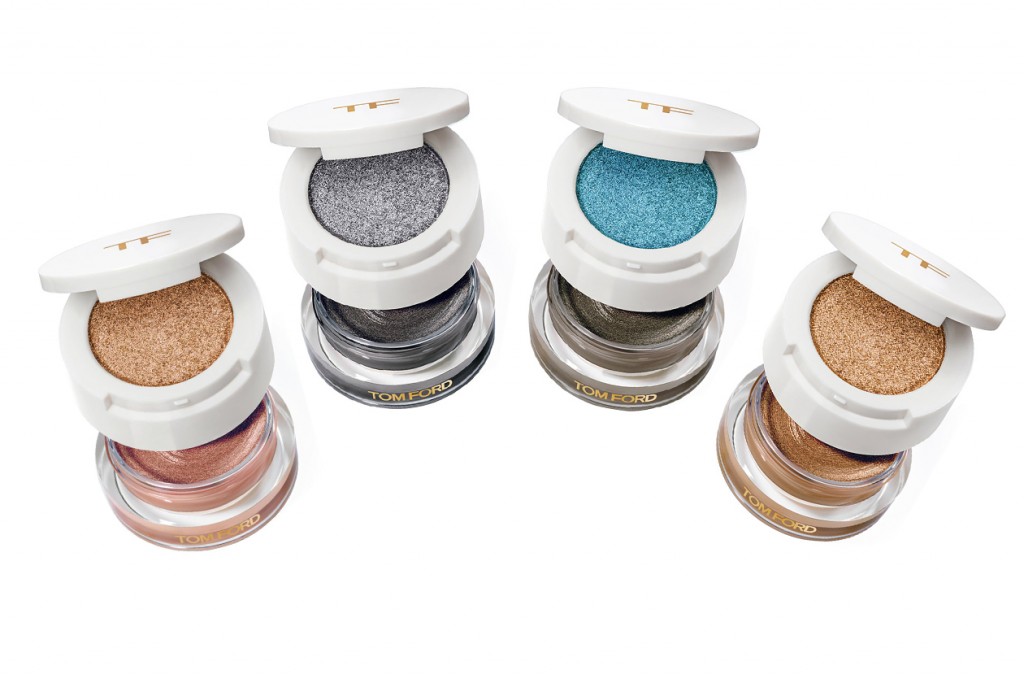 Colourful, handy and durable – new double Tom Ford Cream and Powder Eye Color Eyeshadow. It works in summer heat perfectly and is ideal for every occasion.
Cream and Powder Eye Color Eyeshadow is closed in a small jar. It's been so ingeniously designed that it will satisfy both make up lovers and girls who know a lot about the design. What does the package of the product look like? One of the shadows is hidden in the jar's top; there's also a mirror. We can choose between four colours: Naked Bronze, Golden Peach, Back Oyster and Midnight Sea.
Consistency of the shadow at the bottom of the container resembles a mousse. At the same time, it is a base for the other loose shadow. Tom Ford Cream and Powder Eye Color Eyeshadow is applied with a brush or finger. The product has strong pigment, it doesn't fall out, crease or rub off. It gives expressive effect, emphasizes the look and accents your eye colour. Tom Ford's creamy shadow is resistant to water, moisture and sweat whereas the loose shadow complements the entire make up perfectly . If you want more intensive effect, draw a line with an eyeliner along the lash line and then blend it with Cream and Powder Eye Color. Remember to blend the line between the two products well – only then will your eye make up become 100% professional.
How to create a spectacular look with Tom Ford Cream and Powder Eye Color Eyeshadow? Apply make up base to the whole movable and immovable eyelid. The product will make the cosmetics last longer, colour will be more intense and the final effect will be truly sensational. Then, apply a light shimmering shadow in the inner corners of the eyes and the darkest shadow in the outter corners; this is how you get smoky eyes make up. Then, apply Tom Ford's mousse shadow to the entire upper movable eyelid. Mix it well with the other coloured products. Finish the make up off by applying Cream and Powder Eye Color loose eyeshadow. Apply mascara and lipstick.