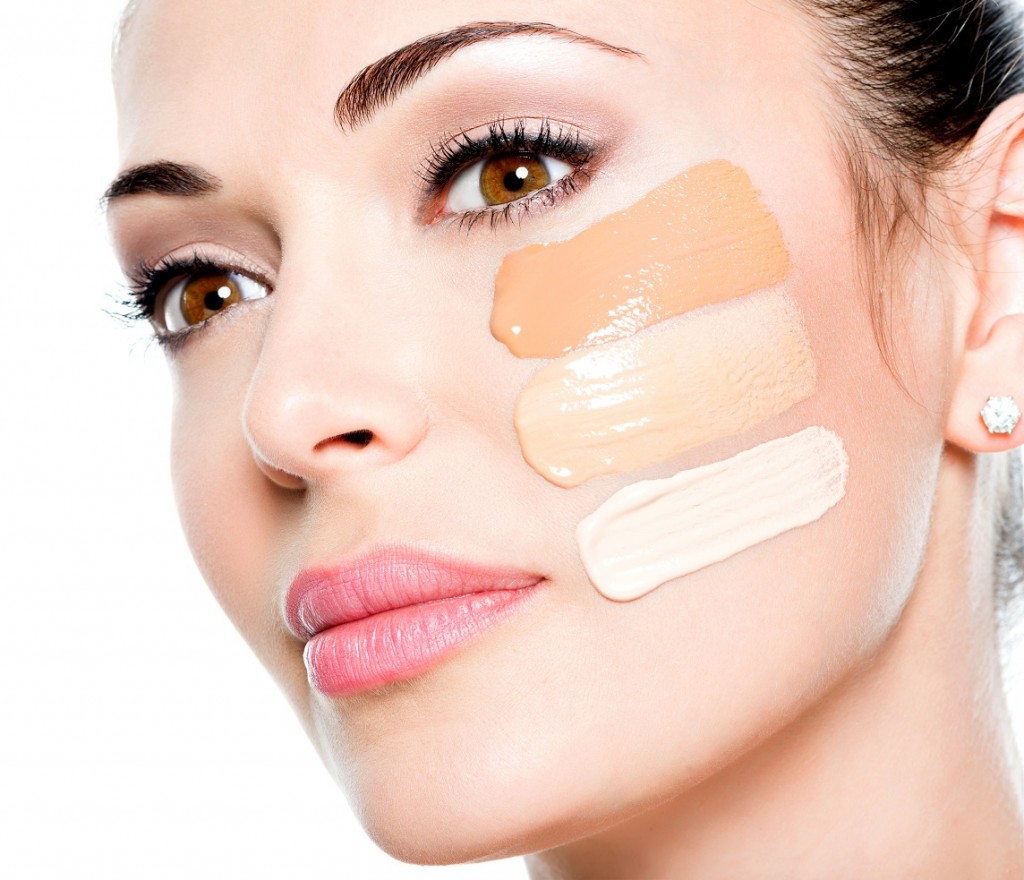 First of all, remember about the correct order of application of your products. Begin with coloured concealers to hide any imperfections, then apply your foundation and finally a corrector to even out your skin tone and hide any pigmentation marks that are still visible. It is extremely important that all layers must be well blended! Additionally, smudge the line between products, do not forget about your ears and the jaw line. If you struggle with the problem of dark under eye circles, apply two thin layers of your concealer. Thanks to this, you will visually enlarge your eyes and brighten the skin around them. If you have a combination or oily skin, you can apply an extra layer of base. This will minimize the glow of the skin in the T-zone (forehead, chin and nose) and reduce the secretion of sebum.
Every drugstore offers a wide variety of foundations. You can distinguish different consistency among these products. Make sure to choose the one that suits your needs best, instead of following the trends. Probably the two most important features are: easy application, and good coverage. Recently, the most popular products are foundations with sponges, however, cream and liquid are still commonly used. Apart from the consistency, the shade of your product is also a key factor. However, if you cannot find a perfect shade to match your skin tone, try blending two different ones and check whether the colour suits you. Make sure to match it not only to your face but also to the lower neckline.
Begin the application with the middle parts of your face. Distribute the product on your nose, chin, cheeks and move towards your ears. Never forget to smudge the foundation down your jaw line, and ears. You may as well add a little bit of the product on your neckline to even out the skin tone and make sure there are no differences in the colour. However, to avoid applying enormous amounts of your foundation all over, when buying the product, make sure to match it to the shade of your neck. Improperly chosen tone of the product may cause a comical effect, so-called the mask. What is also important, always try to put on your make-up in a natural light, preferably facing the window and setting the mirror on the windowsill.
In order to contour your face, you will need a foundation and concealers. With the use of light-shade cosmetics, you will be able to enhance the advantages of your face, whereas darker products will help you to hide any imperfections. It cannot be stressed enough how important is to blend all products well. Make sure that the end result is the closest to a natural look. Use a powder to set all the products to prolong their durability and prevent your face from shine. A good tip is to add a small amount of a highlighter to your foundation. This will make your make-up look more natural and flawless.
To apply your foundation use an especially designed sponge or a flat top brush. With the applicator of your preference, apply the products in a dabbing motion. This way, the product will look more natural, have better coverage and will last longer. However, it is also common to use your fingertips. Make sure to wash your hands thoroughly, prior to putting your make-up on.