You will forget about messy, fine and nearly invisible eyebrows thanks to this product!
Nanobrow Eyebrow Pencil has been created in order to ensure you thorough and long-wear makeup even if you're an owner of patchy and skinny arches. The product emphasizes the natural beauty of your brows. It's important to enhance them without exaggerating – your eyebrows should match the rest of your face.
Are you a professional makeup artist or a total beginner? Nanobrow Eyebrow Pencil is a product perfect for everyone and for any occasion. It will make it easy for you to define brow lines, fill in cavities as well as add hair-like lines – you get to decide which makeup technique suits you best! Results? Expressive, defined eyebrows filled with gorgeous colour all day long.
Pigmentation: Colours and their intensity are the most important aspects that you should take into account when choosing a brow pencil. Finding a perfect match plays a key role – it makes your makeup look very natural and non-grotesque. Nanobrow Eyebrow Pencil is available in a few universal colours that match both cool as well as warm beauty types. The intense pigmentation makes for an efficient product.
Lead: The automatic Nanobrow Eyebrow Pencil with ultra-fine lead and a special brush for combing hairs is always ready to use – you don't have to sharpen it like other traditional pencils. Define your eyebrow shape comfortably and add individual little hairs. In addition, it's perfect for filling gaps and patches.
Formula: Nanobrow Eyebrow Pencil's soft, creamy formula allows for quick and pleasant application. It glides over the skin smoothly (a big plus in the case of sensitive skin), leaving a velvety finish. The product creates natural makeup but if you fancy a bolder, more natural look, press the pencil harder against the skin. An ultra-precise brow pencil with a spoolie. It's anti-smear and smudge-proof, guaranteeing no touch-ups during the day.
Nanobrow Eyebrow Pencil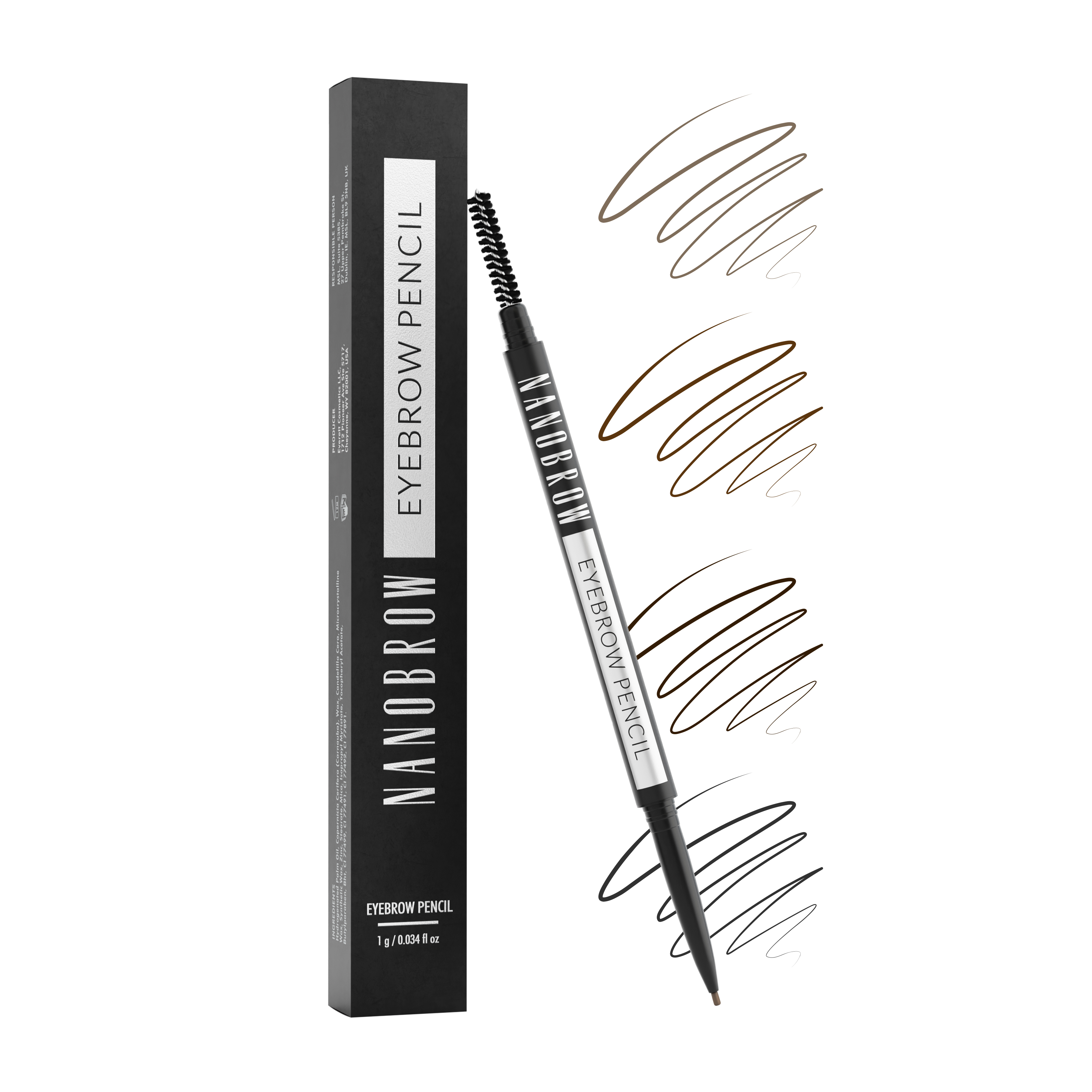 Product available in colors:
How does Nanobrow Eyebrow Pencil work?
Fills cavities and irregularities with colour and thickens eyebrow arches optically
Draws thin lines mimicking real eyebrow hairs
Lets map out even brow lines
Ensures long-wear, several-hour brow makeup with no smudges
Velvety formula delicate for the skin
Nanobrow Eyebrow Pencil – online reviews
Looking for a good eyebrow pencil? Don't forget to check its online reviews! Here's what they say about Nanobrow:
"I am SHOCKED – I bought this pencil 3 times already and am only now writing a review 😀 For me, it's better than MAC and Anastasia Beverly Hills!!" (Natalie, 32)

"My personal favourite! I don't think I will ever replace it It enhances eyebrows naturally, doesn't smear and lasts all day long" (Angela, 39)

"This brow pencil has a perfect consistency – it survives for a long time even on days when I train! My makeup is never ruined 🙂 Its advantage is the very thin lead and a spoolie brush that make for an easy application and a fantastic makeup finish" (Magdalene, 26)

"I discovered this eyebrow pencil by accident and got it on Black Friday (great discounts!), It has a retractable lead on one side and a cool spoolie brush on the other. The colour matches my eyebrows (dark blonde). I tried many other products from other brands but I wasn't as satisfied. I will definitely buy the Nanobrow one in the future!" (Isabella, 41)
Nanobrow Eyebrow Pencil – where to buy it?
The product is available at www.nanobrow.co.uk.